Where Does Gold Fit In?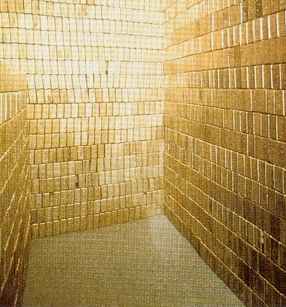 The glitter of gold is always tempting particularly for investors worried about uncertain stock markets, global hot spots, increasing inflation, and the continuing weakness in the U.S. dollar. And those who feel they may have already missed out on the precious metal's soaring fortunes have been getting another chance as the price has recently dropped.
The go-for-the-gold argument goes something like this: First of all, there is little new supply. Exploration fell off a decade ago and mine output in big producing countries like South Africa seems unlikely to rise significantly. And demand for gold has certainly grown faster than supply over the past five years, thanks largely to the growing middle class in China and India. While much of this was due to jewelry consumption and fabrication, a fair portion has come from investors' growing speculative appetite for gold -- something of a vicious circle. Still, a few central banks are buying gold again, and some economists are counseling the People's Bank of China, the country's central bank, to diversify its reserves from dollars into gold.
Gold as a diversifier.
But precious metals' value as a means of diversification is where you should really focus your attention. Last year, Ibbotson & Associates, a well-known research firm, constructed a model portfolio of equally-weighted gold, silver and platinum bullion and then traced its performance over the previous 33 years against several other asset classes including U.S. large-cap stocks, U.S. small-caps, international equities, U.S. long bonds, U.S. intermediate term bonds and cash.
The study found that while traditional asset classes, such as stocks and bonds, used to move fairly independently, they have become increasingly correlated, zigging and zagging together more often than not. When the links between all the assets classes were averaged, the precious metals and inflation had the only negative values. In other words, they went in the other direction, providing some balance within a larger portfolio.
Watch exposure.
For investors with significant exposure to the U.S. dollar and U.S. stocks, the Ibbotson study is particularly interesting. It found U.S. large-cap stocks had negative returns in nine of the 33 years studied. For those nine years, U.S. stocks had an annual return of minus 12.4%, while the precious metals index had a positive return of 8%. So, if you're worried about the weakening U.S. dollar and inflation, then gold may be a good bet for a small portion of your portfolio.
If you do decide to buy gold, what are your options? Well, you can jump in by purchasing gold bullion and investments that are linked to holding actual gold, or indirectly through gold stocks using a variety of funds. These include such things as:
Precious metals funds.
Actually, most of these funds are not pure gold plays and their net asset values fluctuate with the performance of the total portfolio, which will not necessarily simply reflect the market price of gold. Some funds offer direct exposure to gold bullion, but also hold silver and platinum bullion.
Exchange traded funds.
Another straightforward method is buying gold exchange traded funds, which are backed by gold bullion, and trade on stock markets. ETFs seek to replicate the performance of Canada's largest gold companies, offering a relatively low-cost method of buying this metal with MERs that are significantly less than those of precious metals funds. You'll have to pay a brokerage commission when you buy them though and forego the advantage of professional management, a key issue with such a volatile commodity.
Gold mining stocks.
It's always possible to put your money directly into gold companies -- and Canada is full of them. Mining stocks generally outperform bullion in the early stages of a bull market, but bullion tends to do better in the long run. The shares of Canadian gold miners fluctuate for numerous operational reasons -- management expertise, gold reserves, etc. -- beyond the metal's price. And high energy costs and fears of industry nationalization in several gold-producing countries are also likely to impact bottom lines across the board.
Gold bullion wafers and bars.
They can be bought directly from most large financial institutions in weights ranging from one ounce to 400 ounces for a small premium over the spot price. You're responsible for storage and security of your bullion holdings. Same goes for buying coins like the Canadian Maple Leaf and the American Eagle.