Burkini ban suspended: French court declares law forbidding swimwear worn by Muslim women 'clearly illegal'

Conseil d'Etat ruling suspends ban in Villeneuve-Loubet and sets legal precedent for France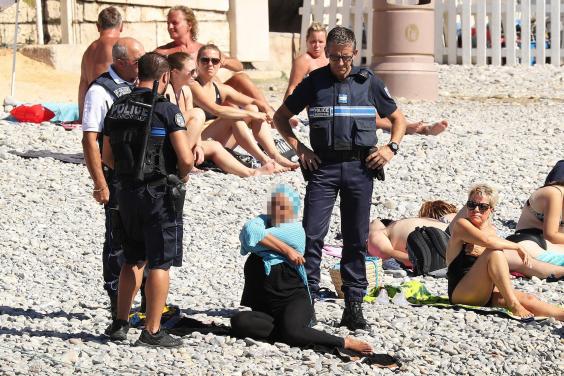 France's highest administrative court has ruled that "burkini bans" being enforced on the country's beaches are illegal and a violation of fundamental liberties.
The State Council (Conseil d'Etat) was specifically examining laws brought in by the commune of Villeneuve-Loubet but its verdict sets a legal precedent for France.
In their ruling, three senior judges said the ban "has dealt a serious and clearly illegal blow to fundamental liberties such as the freedom of movement, freedom of conscience and personal liberty."
They found that no evidence produced in favour of the prohibition proved a risk to public order was being caused by "the outfits worn by some people to go swimming".
The ruling was closely watched in France and around the world, after photos of armed police surrounding a Muslim woman as she removed her top on a beach in Nice sparked outrage this week.
A tribunal in the coastal city previously ruled a burkini ban in the commune of Villeneuve-Loubet was "necessary, appropriate and proportionate" to prevent public disorder.
Conservative Mayor of Villeneuve-Loubet, Lionnel Luca claimed after the that "rampant Islamisation is progressing in our country" and with the ruling to suspend his town's ban on burkinis at public beaches "they've gained a small additional step."
"Far from calming, this decision can only heighten passions and tensions, with the risk of trouble we wanted to avoid," he said.
Mr Luca, also an MP, said that now only a law can now stop troubles since mayors cannot do so. He suggested he would take action when Parliament returns from its summer leave — but did not say what kind of law he would seek.
The original ban was challenged by the Human Rights League (LDH) and Collective Against Islamophobia in France (CCIF), who took the case to the State Council.
In a statement, the LDH welcomed the verdict but said it will not resolve the "ridiculous debate that has made France the laughing stock of the world".
"What is at stake here is the division of the men and women who live in France by their origin and religion," activists said. "We reject this vision of France."
The CCIF greeted the State Council's verdict with "great relief", condemning mayors imposing the bans for damaging national cohesion.
"This victory has a strong symbolic resonance that will put an end to the onslaught of stigmatising and draconian political statements," the group added.
http://www.independent.co.uk/news/wo...-a7211396.html